NDIS Plan Management
The journey through the land of NDIS can be daunting for the most experienced traveller.
We have seen many participants receive their first plan without any support co-ordination and they are lost as to where to start or what to do. As we have travelled this road ourselves for a few years now, we have some experiences to share and are happy to guide both first timers or multi-plan veterans if required. So, if you have a question, even if it's outside the area of finances, we're happy to help where we can or find you someone else who can.
What is a plan manager?
A Plan Manager helps you manage your NDIS funding by paying your providers and tracking your remaining budget.
When you receive your plan from the NDIS it will indicate how the funds will be managed. This is a decision that the NDIS makes in conjunction with the plan participant, based upon their situation and needs.
The financial management of an NDIS plan can be one of four different methods:
Agency managed
The National Disability Insurance Agency (NDIA) control the funds and will only pay providers registered with the NDIS.
Plan managed
A registered plan manager controls the funds on your behalf and acts on your instructions and in your best interests. This method allows you to use NDIA registered or non-registered providers based upon your needs.
Self managed
The participant controls the funds and is able to use any providers (NDIS registered or not). You are responsible for claiming payment from the NDIA and paying providers. You should also keep appropriate records if audited.
Combination
Many plans have a combination of management methods depending on the category of funding.
How can we help you?
Basically, as an NDIS plan manager, we pay your provider's invoices and look after your NDIS budgets to ensure you can pay for the supports you need, when you need them. We act as a financial gateway between the participant, their chosen providers and the NDIA. We are registered with the NDIA to provide this service to NDIS participants in every state of Australia.
We understand that many disability service providers are also small businesses who need prompt payment for their goods or services to pay office rent, fuel for client visits or wages for staff. Delayed payment from a plan manager can cause many frustrations and hardships for a small business, which can in turn result in a loss of services for the client. At OnTime Plan Services, our goal is to not only help you to look after your NDIS plan, but also to help the people who are helping you.
When you choose OnTime Plan Services to look after your plan finances, you have our commitment to do the job right the first time and on time, every time.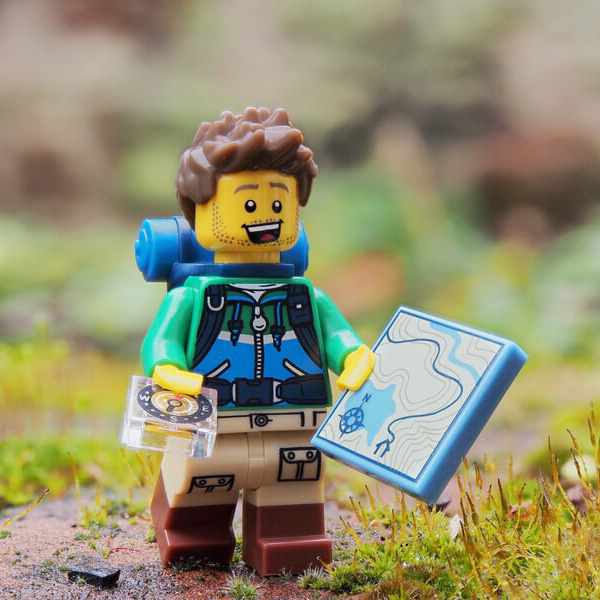 "The NDIA encourages participants to engage with an independent plan manager who does not provide other NDIS funded supports to them. This will ensure that plan management services are impartial, enabling a participant to make informed decisions about their support arrangements."
NDIS Guide to Plan Management | September 2020 (page 5)
Payment of Invoices for Services or Products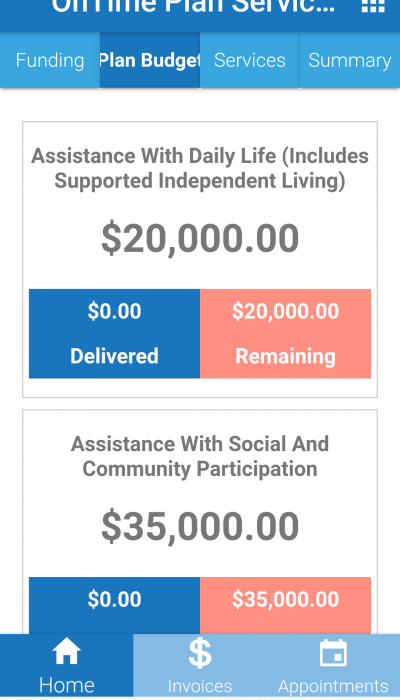 App to check your NDIS payments.
When you receive a product or service as part of your NDIS plan you can either pay your provider at the time of service or request an invoice to be sent to you.
Pay Upfront: Sometimes you may prefer to pay the service provider directly at the time of the service. The paid receipt can then be sent to us and you will be reimbursed from your plan.
Pay Later: For regular ongoing services, it may be more convenient for the provider to send you a monthly invoice for the services provided. This invoice should then be sent to us for processing and the payment can be forwarded directly to the service provider.
Tip: It is always a good idea to keep notes in a diary or calendar when services have been provided (or not), when you receive each invoice check that it matches the products or services that you actually received and that it was provided within the start and end dates of your plan.
Our Process
If we receive an invoice directly from your provider, we can email it to you for your approval and to check that it is all correct or we can lodge with our online phone app which then allows you to approve or decline the invoice at your convenience. Once you have approved it, we will usually process it the same day and have the funds paid to the provider the next day! Any receipts you send us for reimbursement will also be paid usually with 2 days*.
We will send a regular monthly statement, showing the transactions processed and your remaining NDIS plan funds and you can check this at any time via our smartphone app. This will help in keeping track of your spending to plan for future services needed.
*Except where circumstances outside of our control prohibit us from our processes.